Visit of specialists from the South Korean "Siloam Eye Hospital" to the Tashkent Medical Academy
---
As part of on going reforms on the initiative of the President of the Republic of Uzbekistan, Sh. Mirziyaeva "On the further improvement of the health care system" several memorandums on international cooperation were signed and approved in the Tashkent Medical Academy during the last year, including with the Korean Medical University ASAN, Yonsei Medical University, Pavlov Medical University of St. Petersburg, and leading universities with world renown.
In the light of these reforms, on November 23, 2017, at the invitation of the international department and administration of the Tashkent Medical Academy, a delegation of specialists from the "Siloam Eye Hospital" clinic in Seoul, South Korea arrived at the Department of Ophthalmology. Foreign guests were received by the rector of the TMA Professor Tuychiev L.N.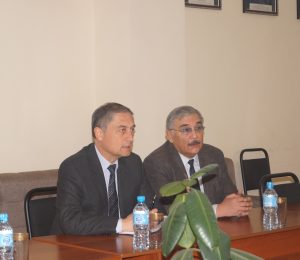 The meeting was attended by Pro-rector for Academic Affairs Boimuratov Sh.A., Pro-Rector for Science Professor Nabiyev TA, Head of the Department of Ophthalmology Professor Bilalov E.N. as well as employees of the international department of TMA.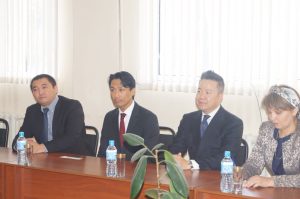 During the meeting, issues of signing a memorandum on further cooperation, exchange of experience and mutual assistance were discussed, according to which the parties bilaterally agreed to support medical diagnostic and scientific communications, conduct regular master classes, seminars and organize internships for magistracy students and employees of the Ophthalmology Clinic TMA in the clinic "Siloam Eye Hospital" of South Korea It should be noted that this was not the first visit of these specialists to Uzbekistan. Previously, they signed a memorandum on cooperation with the Republican Eye Hospital of the city of Nukus, the main doctor of which is the former graduate of the magistracy in ophthalmology TMA Saliev Y.M.
After that, Professor Yong Kwang Chu, a leading specialist in vitreoretinal surgery and Jung-Bum Choi, who is a leading plastic surgery specialist, visited the OMA Department of Ophthalmology, where specialists from South Korea met with Professor FA. Bahritdinova and the staff of the department. Then an open scientific and practical seminar was held, during which foreign colleagues shared their experience, knowledge and latest achievements in the field of ophthalmology in their clinic, the seminar was conducted in English. More than 50 people were present, including the staff of the department, doctors of the clinic, students of the magistracy, residents, and also, bachelors of the Academy. A discussion took place, during which ophthalmologists were keenly interested in the state of ophthalmology in Korea. After the termination of a seminar to visitors memorable souvenirs have been handed over. Professors Yong Kwang Chu and Jung-Bum Choi noted the active participation of Uzbek specialists in the seminar, as well as the mutual desire in cooperation between the specialists of the two countries.